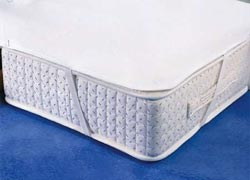 You use grey or flannel cloth for bedding protection ?
For this application we provide all qualities, weights and treatments. Our partner and supplier, Setex -
www.setex.de
- has high technology equipment at its disposal from weaving - brushing - coating to confection.
We can offer you reactivity and flexibility within the vast range of the following products :
- Grey or bleached cloth by the metre
- One side brushed or both sides brushed cloth by metre
- Cloth by metre with all types of chemical treatment (antibacterial, antiacarid) Microstop, Actigard and Sanitized approved.
- Cloth by metre with different coatings, PVC, PU - and rubberized coat
- All made up articles
Widths : from 80 to 320 cm � Weights : from 100 to 500 g/m2